What is fire sleeve?
Fire sleeve is a protective sleeve coated in red silicone rubber that protects hoses, wires and cables from fire damage. At Thermaguard, we stock SUPERTHERM® Aerospace, which can withstand continuous exposure to temperatures of up to 260°C. Furthermore, the nature of the high-bulk fibreglass within the silicone coating makes them resistant against abrasion and mechanical damage. We stock the largest range of SUPERTHERM® in Australia, offering both custom-cut lengths or 31m rolls to meet your requirements. Our sleeves are widely used in a number of different industries—including marine, mining, car racing, firefighting and more. They're completely AS1072 Certified and put through various tests before hitting the shelves to guarantee exceptional insulation performance. These tests replicate catastrophic conditions, to the extremes of fire mid-flight in space. For complete protection of your wires, cables and hoses in high-temperature environments, contact Thermaguard: home of Australia's most reliable protective fire sleeve!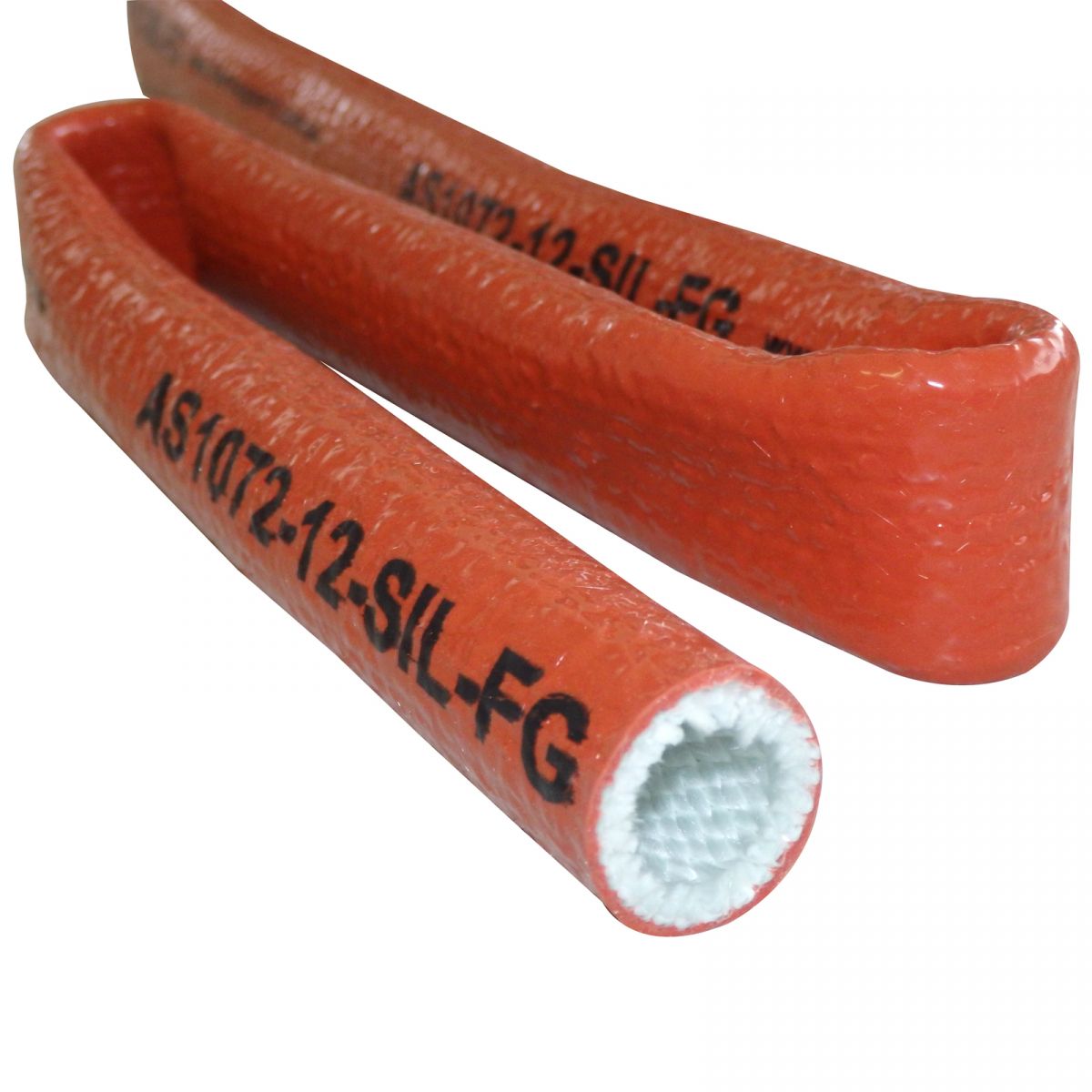 Why purchase your fire sleeve from Thermaguard?
When purchasing your fire protective products, it's important to do your research and evaluate the credibility of the supplier. The Thermaguard team go above and beyond to simplify the buying process and give you complete confidence in our range. Here are some of the benefits of shopping with us:
Our products are Fire Sleeve AS1072 Certified: Ensuring products meet Australian standards is a vital quality of any fire proofing product.
Australian owned and operate company: We maintain quality control from end to end.
Web order 24/7: Giving you access to the products you need, when you need them.
Returns and refunds are supported: There's no loop holes or schemes, it's about making sure you receive the product that's right for you.
We dispatch products in the same day if you order before midday: You won't be waiting weeks or even days to receive your SUPERTHERM® Aerospace Grade Fire Sleeve!
Tips on installing your fire hose sleeve
How easy is our SUPERTHERM® Aerospace Grade Fire Sleeve to use?
Step 1: Firstly, you need to determine how much of the sleeving you need to cover all your hoses, wires or cabling. The Firesleeve ID (inner diameter) but be greater that the outer diameter of the hose/cables in order for the firesleeve to slide over the cables or hose.
Step 2: Once the correct sizing has been determined, place your order before midday to receive our same day shipping service!
Step 3: After you've received your sleeve, you might need to cut it down to the correct length. This can be accomplished using a sharp knife or a pair of industrial scissors.
Step 4: Next, simply slide the sleeve over the end of your tube or cabling.
Step 5: To make sure the attachment is firm, attach stainless steel band clamps or steel cable ties at both ends of the sleeve.
Step 6: Lastly, use the SUPERTHERM® end seal tape to completely secure the fire sleeve and prevent fluid ingress and particle contamination. Dependant on your application, some prefer to do step 6 prior to step 5.
If you're looking for the most reliable protection for your cabling, tubing or wires at your home or business, contact our professionals for more information on our state of the art SUPERTHERM® Aerospace Grade Fire Sleeve. With customised lengths and a straight forward installation process—this product is so versatile, it's valuable to everyone!