Date Posted:24 July 2020
FIRE-TESTED SYSTEMS HELP CREWS SURVIVE TRUCK BURNOVERS
A report written by Roger Nicoll and Justin Leonard earlier this year, reveals how the team at CSIRO is actively involved in the research required to ensure Fire Crews themselves are adequately protected from heat and flame while protecting us during Australia's strenuous Bushfire Seasons.
Many would recall the footage spread via media channels in the recent fire season - when firefighters in an unfortunate position, were faced with a 'burnover' when the wild fire they were fighting, turned on them, raging towards their fire truck. The firefighters were seen in the video holding up fire blankets to the windows of the truck as a last resort to protect themselves from the severe radiant heat; as it was not equipped with Radiant Heat Shields.
"Radiant heat entry into the cabin is the most critical factor limiting the survival of the fire fighting vehicle crew." Major Incident Review, Australia.
Whilst firefighters undergo intense training and develop operational procedures to minimise risk, nature is unpredictable and at times, firefighters may find themselves in life-threatening positions, having to deploy personal protective equipment; such as fire blankets, radiant heat shields, and external deluge systems.
HOW CSIRO WORKED WITH FIRE DEPARTMENTS VALIDATING CREW PROTECTION DURING BURNOVERS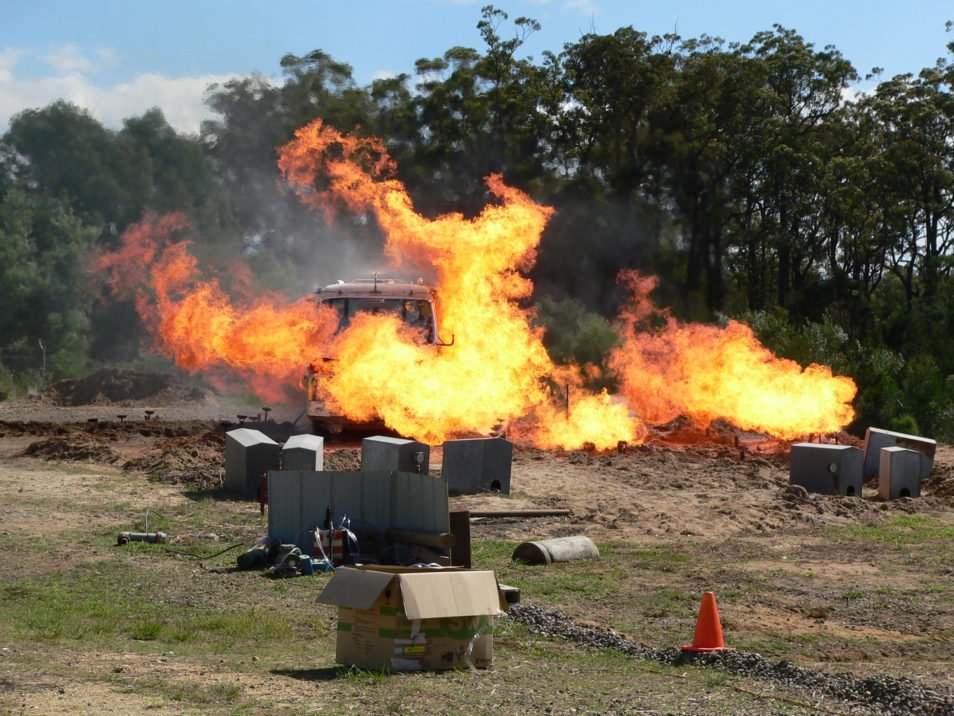 Above image showing the CSIRO/Mogo Burnover Test in action
The CSIRO report states the below:
"Following some tragic burnovers in the late 1990s, the Victorian Country Fire Authority (CFA) and the New South Wales Rural Fire Service (RFS) asked for our help.
We worked with them to develop safety parameters for fire trucks and to test the effectiveness of modifications like water sprays and shielding.
We designed a series of 24 tests carried out on two fire tankers at the RFS's Hot Test Fire Facility at Mogo in New South Wales. Our testing used a number of gas burners to simulate the approach of a bushfire front and the burnover of the fire trucks. This simulator used our detailed knowledge of fire front characteristics and behaviour to accurately recreate burnover conditions similar to a real bushfire.
The simulator subjected the fire trucks to varying fire intensities while we recorded detailed measurements of radiation, temperature and toxic gases."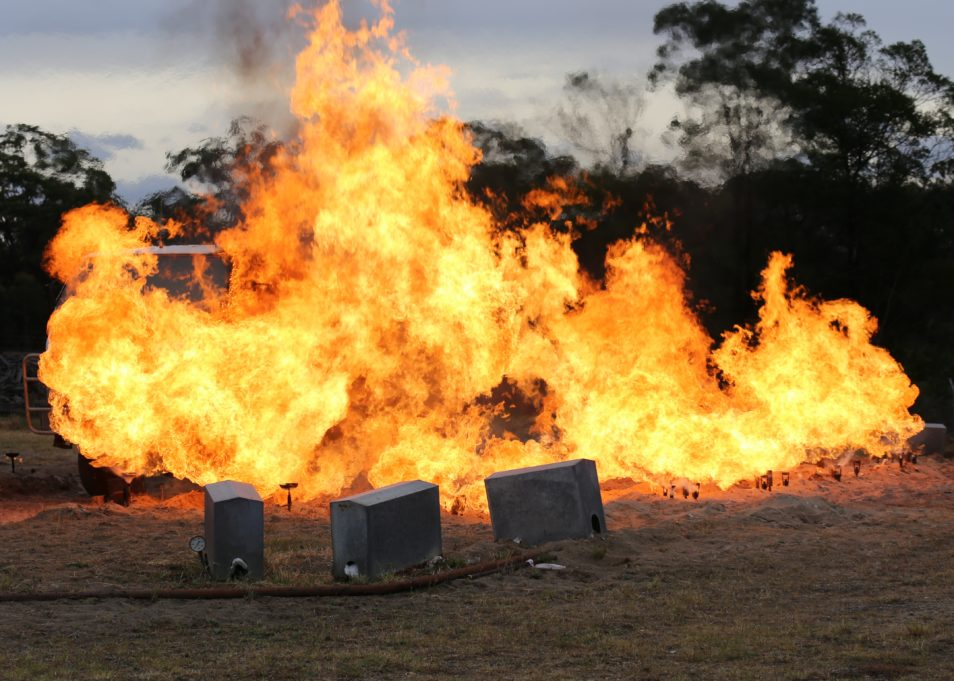 Above image showing the CSIRO/Mogo Burnover Test in action
WORLD-LEADING, CREW PROTECTION SYSTEMS FOR BURNOVERS
These Mogo burnover tests were a success, with data collected outlining new and better prototypes for crew protection. The prototypes in the images provided in the CSIRO report, were used with the worst-case burnover conditions in the simulator.
The systems in the field experiments were further validated at Tumbarumba NSW and Brucknell Park Victoria. These forest burnovers provided additional confidence in both the protection system design and the exposure conditions achieved in the simulator.
The report continues, "Since 2006, fire trucks now have key features to support safety and survival:
a ring of spray nozzles that deliver a 'water curtain' over the vehicles cabin
radiant heat shields or curtains for windows to block radiation from reaching the people in the cabin. These inclusions also provide an extra layer of protection if the windows break
water sprays to stop wheels and pumps catching alight
fire resistant covers for electrical, pumps, air intakes and air hoses."
Read the full CSIRO report from January 2020 here: https://blog.csiro.au/fire-truck-burnovers/#comments
FURTHER INFORMATION ON THERMAGUARD'S® WORLD-LEADING FIRE PROTECTION PRODUCTS
SUPERTHERM® RADIANT HEAT SHIELDS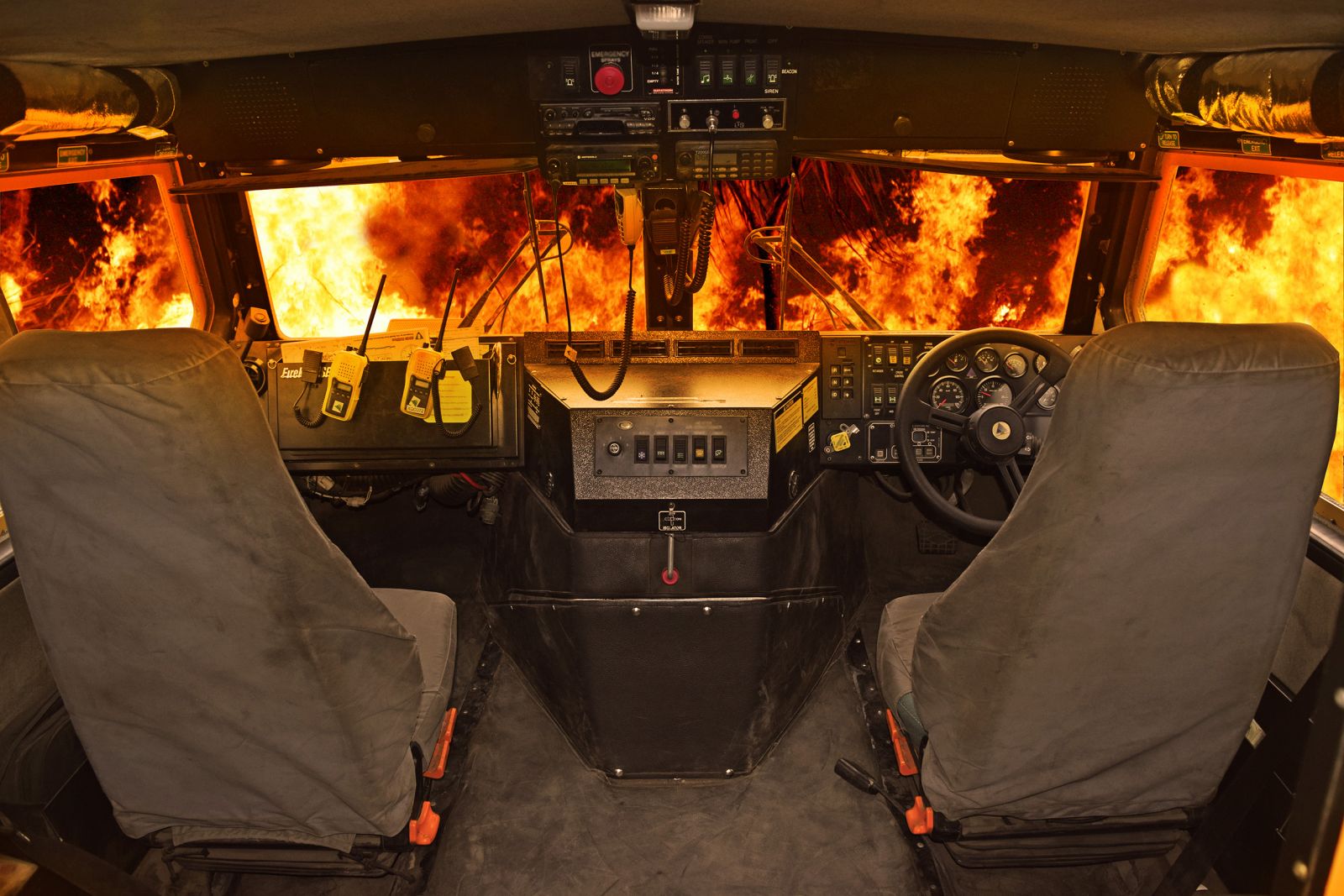 Above image showing Thermaguard's Supertherm® Radiant Heat Shields in stowage position – above windows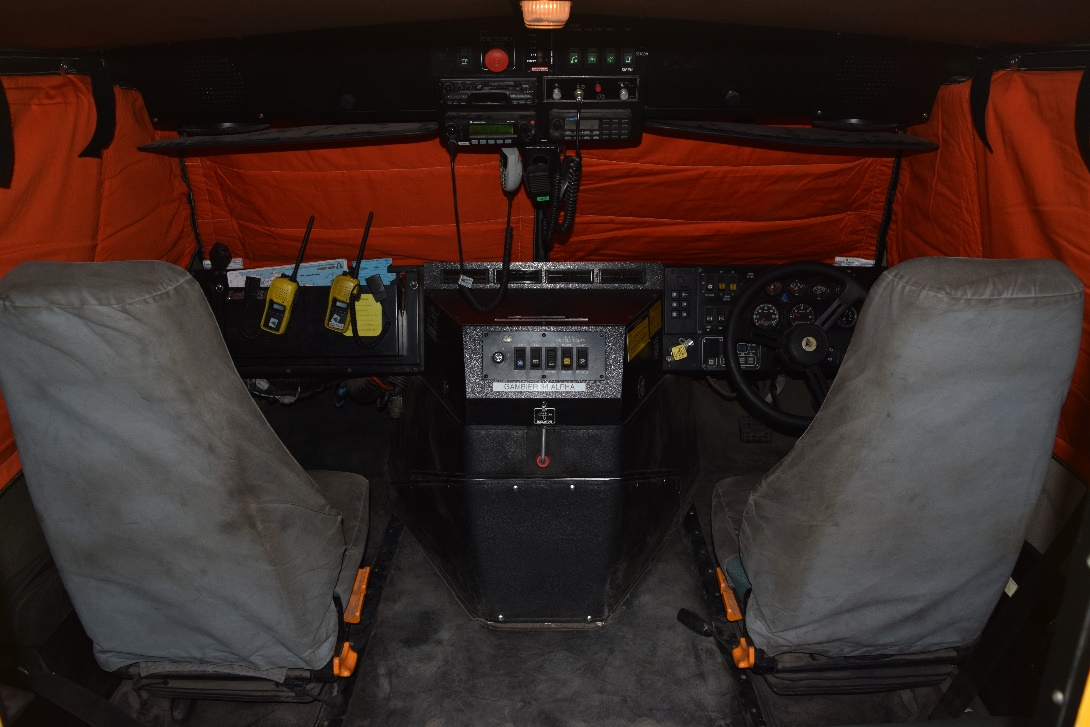 Above image showing Thermaguard's Supertherm® Radiant Heat Shields in deployed position
Thermaguard designs and manufactures Australia's Most Trusted Fire Crew Protection Systems. Thermaguard Radiant Heat Shields are now in use globally, for many different departments; whether it be Wildfire, Forestry, or Environment, and are the subject of patents and registered designs.
Since validation in 2006 in the initial CSIRO/Mogo Burnover Test, and subsequent CSIRO/CFA burnover tests, Thermaguard continues to hone the accredited product to enhance driver outward vision, weight saving and respiratory outcomes.
Thermaguard's Radiant Heat Shields have the best fit and innovation in the industry, with designs available for more makes and models than any other brand; including US, Euro, Jap and Asian Chassis.
Our shields are also put through rigorous Quality Assurance Inspections.
More information on our website: https://www.thermaguard.com.au/radiant-heat-shields
THERMAGUARD'S PERSONAL PROTECTIVE FIRE BLANKETS
Thermaguard works closely with many Australian Government Fire Departments, providing Personal Protective Bushfire Blankets, in an array of packaging options with personalisation at no extra charge.
We have recently seen a significant increase in demand from not only Fire Departments, but also Police and Health Departments, and individuals who live or travel in a high bushfire risk area.
Our red Supertherm® Lite™ Blankets are easily stored in vehicles for ready access and deployment.
These blankets exceed the AFAC (Australasian Fire and Emergency Service Authorities Council) specifications, and are frequently tested by world-leading laboratories.
Click here for more information, and the opportunity to purchase online: https://www.thermaguard.com.au/supertherm-lite-personal-fire-blanket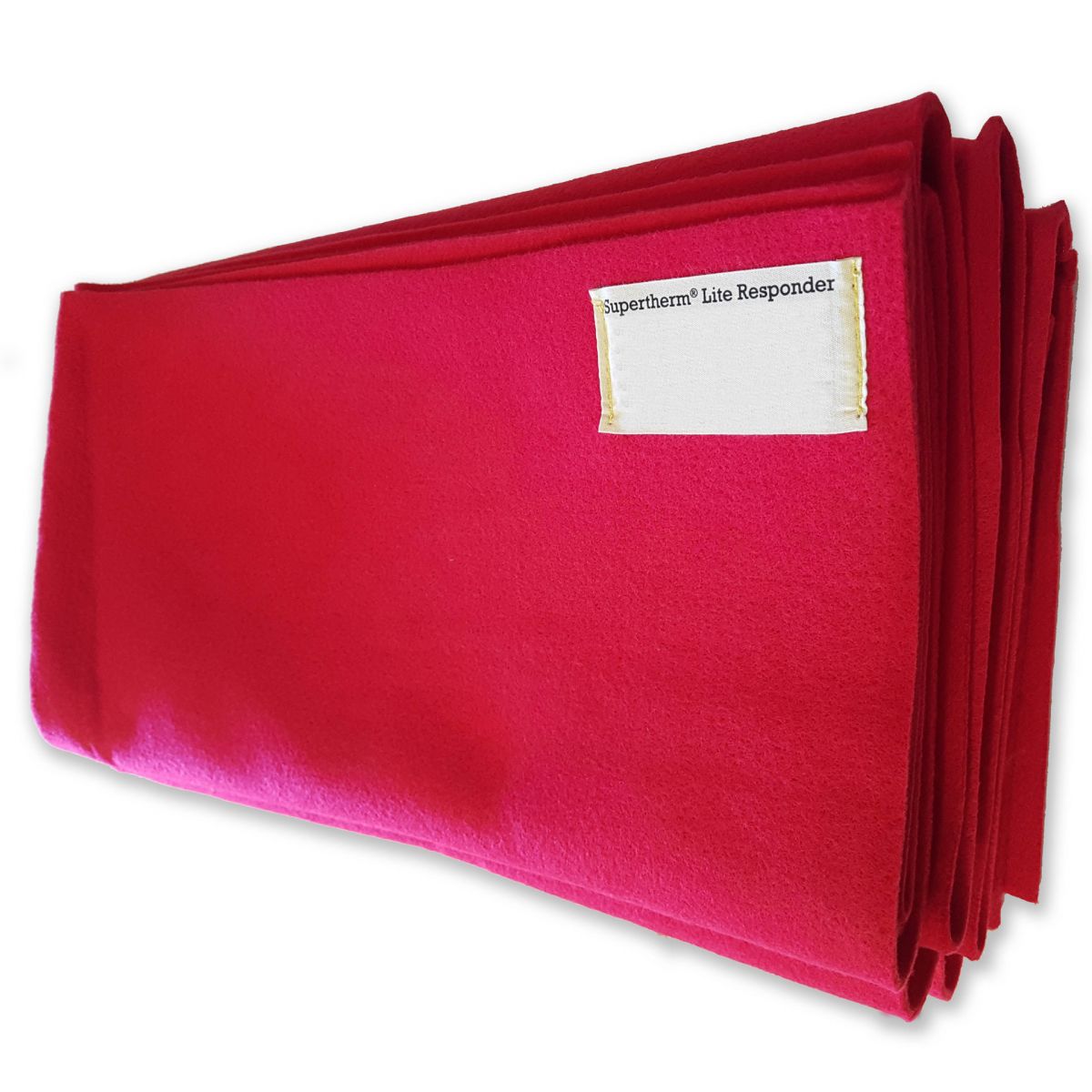 Above image of Thermaguard's Supertherm® Lite™ Fire Blanket (without packaging)
THERMAGUARD FIRESLEEVE™ - AEROSPACE AS1072 GRADE FIRESLEEVE
Thermaguard® stocks the largest range of Supertherm® Firesleeve in Australia. Our Firesleeve is manufactured to the demanding SAE Aerospace Standard AS1072.
The Supertherm® Aerospace Grade Firesleeve has a high-grade silicone outer shell, which is a unique compound that sheds splashes of molten materials with temperatures of up to 1200°C. These heat sleeves are flame resistant and can be exposed to constant heat of up to 260°C.
Our SUPERTHERM® AEROSPACE-GRADE FIREPROOF SLEEVE can be used in various applications including:
Fire Fighting – critical component fuel, air, electrical and hydraulic lines
Mining – vehicle & machinery fuel, air, electrical and hydraulic lines
Oil & Gas – hoses & electrical lines, steam lines etc
Smelters – equipment cords and electrical cables
Industrial furnaces – electrical cables, hoses and air lines
Automation – robotic arm fibre optics, electrical and air lines
Marine - fuel filler, overflow and breather lines
Race Cars – hoses, fuel & oil lines
Visit https://www.thermaguard.com.au/products/firesleeve/ for more information and to order online.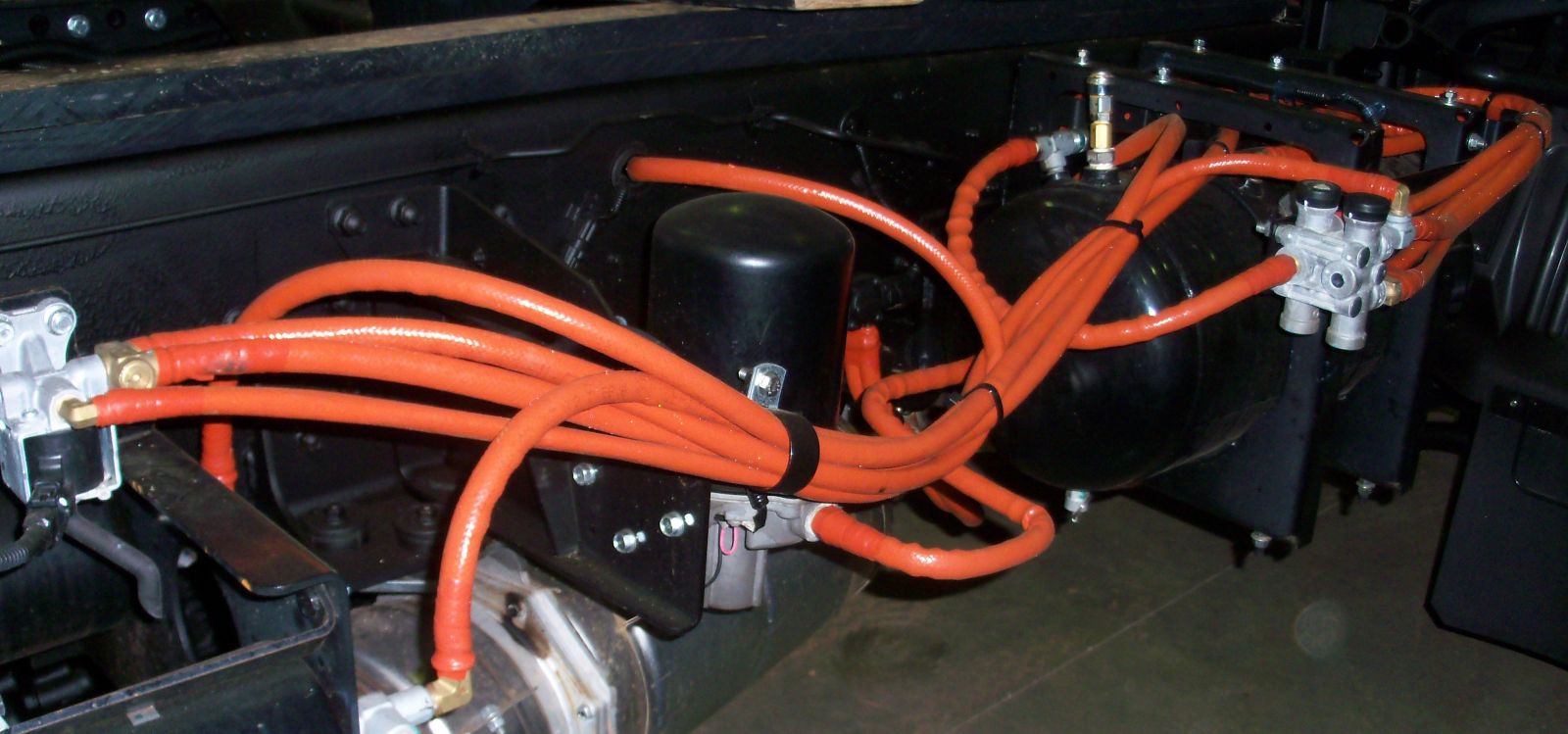 Above image of Thermaguard's Supertherm® Firesleeve installed on a truck chassis
Wherever you are on the globe – if you're serious about Burnover Protection, feel free to get in touch with us at www.thermaguard.com.au or email via sales@thermaguard.com.au
---
Leave a comment